Gong Zheng, Deputy Secretary of CPC Shanghai Municipal Committee and Mayor of Shanghai Municipal Government, investigated online new economic enterprises at Xuhui District on August 3rd. Mr. Gong pointed out that seizing the new industrial track is the key for Shanghai to grasp the initiative of future development. It is necessary to grasp the general trend of industrial science and technology transformation, keep a close eye on the new characteristics of production and lifestyle, make every effort to lay out a new track for digital economy, build a highland for innovation strategies such as digital economy and metaverse, support enterprises to seize opportunities, expand markets and win the future on the new track, and inject strong impetus into Shanghai's construction of a modern industrial system.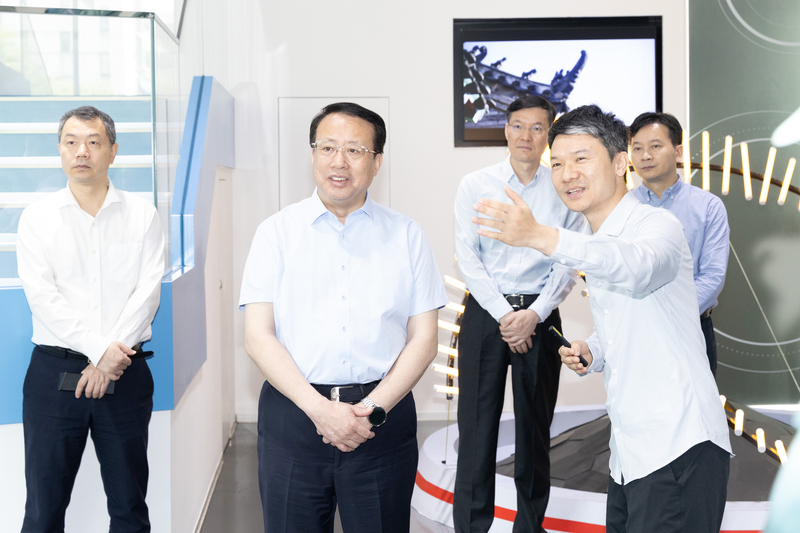 In the morning, Mr. Gong and his party came to Oriental Fortune Company to inspect the platform big data center, listen to the introduction of enterprises' entrepreneurial development and model innovation in Shanghai, and learn about the application results of financial big data analysis. He encouraged the enterprises to deepen their advantageous fields, continuously increase investment, actively explore vertical professional models, empower finance with science and technology, empower the real economy with finance, and promote high-quality development.
miHoYo actively builds Chinese original IP and shapes the whole industrial chain of cultural creativity, and many products have won high popularity at home and abroad. City leaders walked into the exhibition hall of miHoYo Company, inspected the image of "Original God" and other products, and learned more about the research and development of cutting-edge technologies such as business model, cartoon rendering and artificial intelligence, as well as investment in hard-core technology enterprises.
Tencent (Technology) Shanghai Co., Ltd. has made in-depth explorations in AI research, live e-commerce and social entertainment, motion capture and photographic modeling in recent years. Gong Zheng watched the application scenarios such as intelligent small sample Homo sapiens factory and WeChat palm brushing one by one, and went into the motion capture laboratory and photographic modeling laboratory to get a deep understanding of the latest technologies and applications. Gong Zheng encourages enterprises to rely on the rich advantages of Shanghai's application scenarios, realize differentiated supply through technological innovation, stimulate potential demand, and constantly explore new markets.
Mr. Gong pointed out that at present, the industrial transformation promoted by the Internet is advancing in depth. It is necessary to give full play to the unique advantages of Shanghai megacities, such as rich application scenarios, concentrated resource elements and strong market demand, and make every effort to promote online new economic enterprises to become stronger and bigger, make every effort to promote the growth of new racetracks such as digital economy, and make every effort to achieve innovation breakthroughs in key technologies to inject new kinetic energy into economic development. It is necessary to respect the law of industrial development, comprehensively promote the digital transformation of cities, accelerate the digital industrialization and industrial digitalization, and continuously forge new advantages in industrial competition. Government departments should continue to create a first-class business environment, care for the needs of service enterprises, build a good industrial ecology, and better support and encourage private enterprises to show their talents and develop and grow in frontier fields.